Ireland is among the top 50 visited places on the planet! What better way to take advantage of our country's breath-taking landscapes, than on a motorbike? All you have to do is prepare, hit the road, and let the journey begin.
Preparing for your motorbike trip can be extremely easy. Save time and hassle with these top tips when traveling around. For your ideal 2017 road trip, all you need is a motorbike, the proper riding equipment, a camera, and lastly, some guts and ambition. Ready? Let's go!
Here are the top biking road trips to take in Leinster and how to prepare for a motorbike road trip! 
If you love twisty roads with plenty of blind bends and crests that will set your adrenaline going, try the Cavan via Arvagh and Killeshandra road. Every twist of the throttle will leave your heart pumping, while nejoying the striking Leinster landscapes. The BMW F 850 GS would be your ideal motorbike for this kind of road trip. This is a very powerful all-rounder thanks to its 4-cylinder in-line engine. The engine output is an impressive 160 PS/118 kW at 11,000 rpm. Show off your athletic flair with this kind of motorbike and feel the engine's speed range as you enjoy the curves of the Irish mountain roads.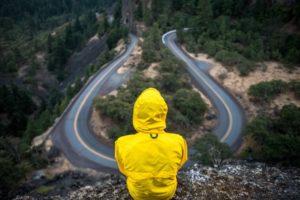 From Dunboyne to Trim you will find many fast sweepers and a good line of sight as you approach bends and curves. The traffic is minimal here, so you can enjoy the peace and quiet, with only your motorbike engine swooshing in the wind. Apart from a motorbike, helmets, suits, gloves and boots are essential motorbike equipment. A comfortable, well-fitted helmet is vital on any motorbike trip you take, so it is worth investing in one. An airflow2 helmet will allow excellent ventilation, a chin strap and snap lock, as well as an outer shell made of glass-fibre and reinforced plastic for extra safety and comfort. If you are traveling with a friend, this helmet is ideal as it allows for BMW Motorrad communication systems, which means you can connect and communicate as you ride together through the hills of Leinster, or listen to your favorite tune that sets the mood.
From Gorey to Arklow via Aughrim, you will find high speed bends and an excellent road surface. Taking special caution from Woodenbridge to Arklow is recommended as the surface of the road is quite slippery. The BMW 900 R Sport is perfect for fun, dynamic motorbike riding and it has an excellent integrated sporty package. With an economical parallel twin engine with 90 bhp, it boasts safety through an established, well balanced suspension and many other safety features such as ASC, ESA and RDC. You will have complete control on the road and feel that touring is safe, affordable and enjoyable. It has additional luggage fittings, perfect for you to bring your essentials on a road trip. Opt for a sport suit, to protect your knees, elbows and shoulders. A suit with integrated shock-absorbing material at the collarbone and the chest will set your mind at rest that you are biking safely while being comfortable and fully protected. Match your gear with a pair of gloves to fight off the rough Irish weather such as the airflow gloves that will protect your hands with leather-covered protective shells over the knuckles, while also ensuring you maximum grip.
If you are stuck in the city center of Dublin and would love a quick evening spin, try the Howth Summit road trip as a way to relax and destress while enjoying a good, old, cloudy Irish sunset. You'll want a lightweight airflow suit, that will protect you and allow you maximum freedom of movement. Suits with air text mesh inserts also improve ventilation. In the rainy Irish weather, you will love a windproof and waterproof cover jacket. For urban mobility, rider trousers that are made of fabric and are abrasion-resistant will give you peace of mind and comfort. The double thickness material at the seat means you can take longer trips without feeling seating discomfort or numbness. Rider trousers with removable knee and hip protectors are also an option and  you can take them off and put them on when it suits.
The Ballyboden-Ballyknockan-Laragh-Sally Gap route is one of the most enjoyed by Irish bikers. If you want a Sunday morning spin this is your ideal route. Imagine yourself on a BMW F 750 GS. It's light weight and the seat variants allow for both male and female riders to enjoy safe and carefree motorbiking, no matter your shape, size or past motorbiking experience. The Red-by-Wire electronic control system means that riders can control acceleration and deceleration more easily. The Wicklow Gap will take your breath away as you meander through the hills and mountains. Stop for a coffee and some breakfast in Laragh and you will find that St. Kevin's monastery at Glendalough is not far off, and most definitely worth visiting. A handy gear piece is the BMW Motorrad Luggage Roll as it is waterproof, and made of resistant, hard-wearing tarpaulin material. Gear that is detachable and easy to carry will make your life a whole lot easier when you are looking to leave your bike and take a hike.
Remember these top tips for safe, enjoyable motorbike riding. Apart from a custom motorbike, tailored for your own needs, personality and experience, don't forget that the right gear equipment is just as important. All you need is: a well-fitted helmet, a biking suit, boots and gloves. It is handy to have a toolbox at all times in case of an unexpected breakdown. If you have a GPS, it will save you time and petrol as you will know exactly where you are going and won't waste time getting lost as you find the shortest, best routes. Lastly, bring a camera to record all your adventures and enjoy the beautiful scenery which Leinster has to offer.